Social Media Management
You need a clear and meaningful message. Crafting that message can be difficult and time consuming not to mention confusing if you aren't keeping up with current trends. I don't just mean cute cat videos either, your entire brand needs a strategy and behind the strategy is precision execution. Take the frustration out of it by hiring Erika Jones Consulting as YOUR social media coordinator! I don't believe in "Package Pricing" because your business isn't in a box so why should your marketing be?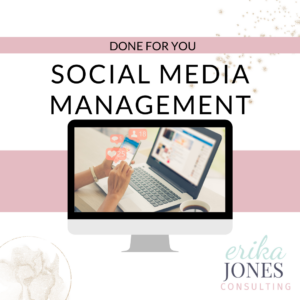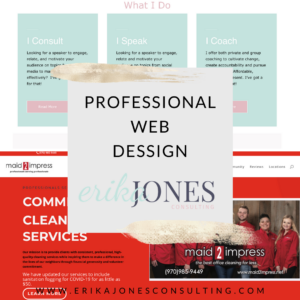 Professional Web Design
Your website is your company billboard, what is it saying? Are you sending the right message? Is your message even readable on mobile platforms? Did you know that over 80% of website visits are done via a mobile device! Having a clear and concise message beautifully displayed and easy to navigate is an essential in today's economy. When you hire Erika Jones Consulting to build your website you get a fully functional and local search friendly website. I have a trusted team of copywriters, graphic designers, and WordPress experts that I utilize for each and every website I build. When you want a clean and simple design with effective marketing built in, call me and let's get to work!
Marketing Consulting and Coaching
Post this, don't post that, be here but not too much…. wow there is so much to keep track of. Having a clear and concise direction of your business message requires having someone who understands the 10,000 foot view of your business and can execute every detail. A marketing coach helps develop your brand and then keep you accountable to your message. Imagine having a coach to check in with and run your ideas by and get HONEST feedback on if that fits with your brand message all while keeping the end result in mind. When you hire Erika Jones Consulting as your marketing and business coach you will experience results like never before.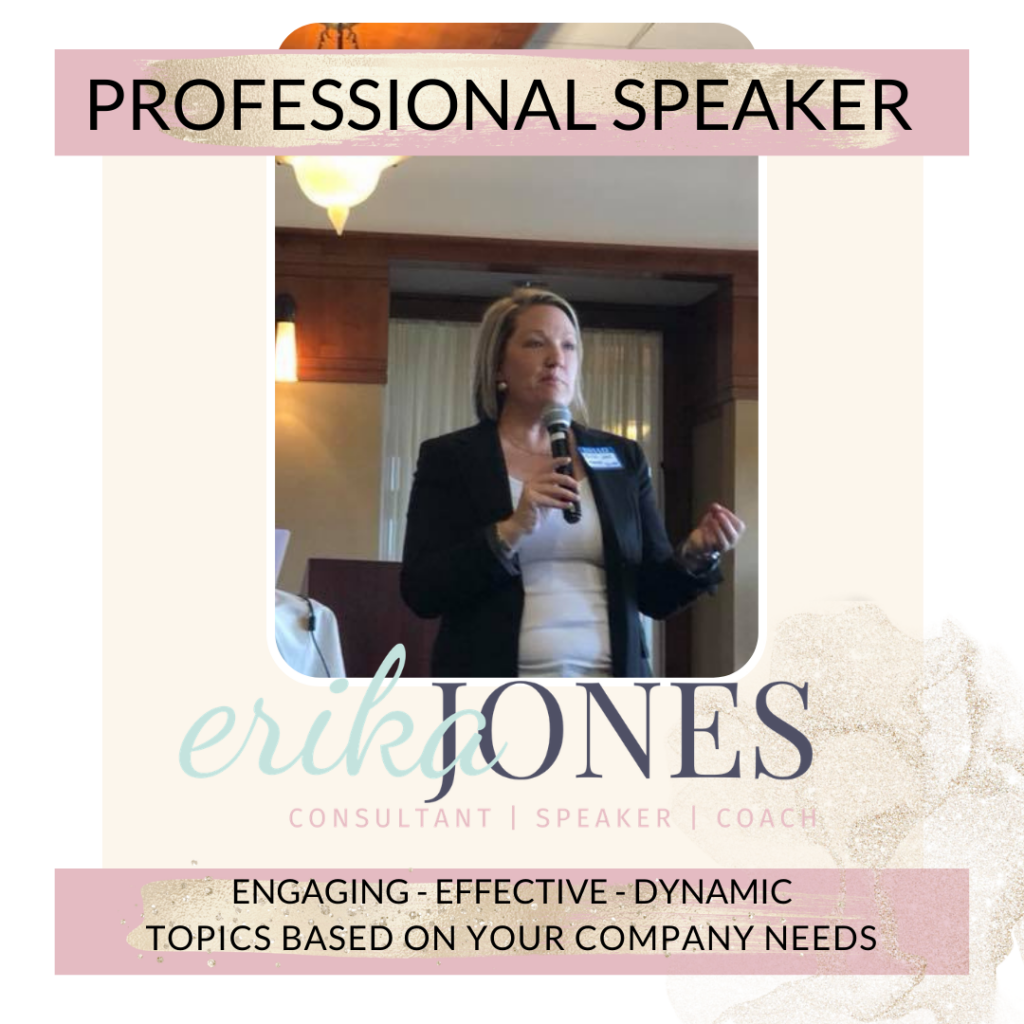 Professional Speaking – Mastermind Group Coaching – Course Facilitator
Are you looking for a dynamic speaker for your group? Erika Jones has been speaking on stages for over 13 years. She has shared the stage with speakers such as Darrin Hardy, Brian Collins and other industry leaders. She has spoken at events such as "Feed Your Focus" Cendera Funding Annual Meeting, Mesa County Womens Network, and Women's Business Alliance. During the COVID-19 Pandemic she shifted her strategy and began hosting Sip and Social trainings with up to 250 attendees. Her engaging and effective communication style will have the entire room engaged and learning. If you are interested in having Erika speak at one of your events or would like more information about her Mastermind Group Coaching for your sales organization contact her for current rates and pricing.